Cow Ranches give food(Put animals inside to produce food)
| | | | | |
| --- | --- | --- | --- | --- |
| Name | Cost(Wood) | Capacity | Time | Earns |
| Cow Ranch l | 200 | 6 | 1 Min 30 Sec | 150 |
| Cow Ranch ll | 750 | 6 | 1 Min 30 Sec | 275 |
| Cow Ranch lll | 6,500 | 6 | 1 Min 30 Sec | 325 |
best advice to capture cows. don't ever try to capture cows when there are trolls in the map except on the oppisite side. Only capture cows when the trolls are oppsite side of the field or all trolls elminated.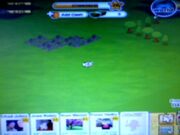 Exmple like this where there are no trolls near it at all.
Ad blocker interference detected!
Wikia is a free-to-use site that makes money from advertising. We have a modified experience for viewers using ad blockers

Wikia is not accessible if you've made further modifications. Remove the custom ad blocker rule(s) and the page will load as expected.